NAGRA VI Audio Recorder, 6+2 tracks, HD + CF 60th anniversary edition
The Nagra VI
Digital Location Recorder
Special edition 60th anniversary Nagra Kudelski

- pannello frontale in alluminio lavorato di macchina (era in materiale plastico conduttivo in 3 colori sul Nagra VI classico)
- pomelli dei potenziometri in metallo, forma ribassata tipica dei registratori Nagra (erano in plastica nera, forma tronco-conica sporgente dal pannello frontale)


Features:
6+2 recording tracks
6 channels (4 Mic + 2 Line) 24 bit, 192 kHz AD / DA
Post-production compatible (BWF/iXML files)
SMPTE / EBU Time Code
Internal 2.5" Hard drive disk and removable Compact Flash
Built-in matrix and two M/S decoders
User programmable Pre-recording buffer
Large colour display
USB 2.0 communication
Lightweight and battery operated
Internal speaker
The basic package includes:
- NAGRA VI 6-channel digital recorder
- NVI-LIB1 Lithium Battery Pack, 4.6 Ah
- NVI-PSU Charger/Power-supply for NAGRA VI
- NVI-CC1 Carrying case for NAGRA VI with shoulder strap
- User Manual mini-disk

In order to mount on your NAGRA VI the new optional 2nd USB port with higher current capability on USB port, the required price is euro 450,00 + tax including shipment expenses to and from Nagra-Switzerland.

Product description
The NAGRA VI has been designed as the natural successor to the NAGRA-D / DII multi-track digital recorders. Based on a totally new design concept, the hardware of the NAGRA VI is software dependent and can be adapted simply through software. The NAGRA VI is supplied with two plastic "handles" which serve not only to protect the front of the unit from accidental damage, but can also be moved to their lower position and serve to tilt the recorder for a better viewing angle, and easier access to the functions when working on a table-top or sound cart. A carrying case and shoulder strap are also available for over-the-shoulder operation.
The NAGRA VI is delivered with a removable battery box containing a lithium-ion battery pack, a mains power supply and is equipped with a 120GB internal hard disk.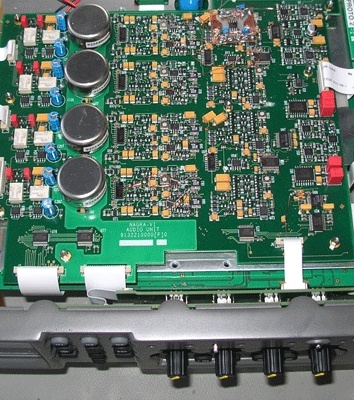 Audio inputs
It offers six independent analogue audio inputs. Inputs 1 - 4 are equipped with traditional NAGRA microphone pre-amplifiers for dynamic and phantom +48V microphones. These pre-amplifiers are a combination of those developed for the NAGRA V and NAGRA-D and are without doubt the best audio inputs NAGRA has ever designed. An audio limiter can be selected for each of these inputs and these can be ganged in pairs if desired. These totally new concept input circuits offer the best specifications ever produced by any NAGRA in terms of pure audio quality. The four "In-house" transformers offer fully floating inputs for the dynamic microphones, giving a greatly improved signal-to-noise ratio. The remaining two analogue inputs are LINE level inputs for connection to other equipment supplying a line level signal, such as radio receivers. When set to the LINE position all 6 analogue inputs will accept up to +24dB. The two input connections (channels 5 + 6) double up as 2 AES inputs (A and B) when selected to digital input mode.
Zipper noise suppression
The NAGRA VI does not use traditional logarithmic potentiometers for the audio levels as were traditionally used on previous Nagra models. Today digital "encoders" are preferable because they do not suffer from "crackling" noise problems, and can be programmed to fulfill a multitude of different operations depending on the software program controlling them. Equally, even the graduation of the sweep is software calculated and can be altered relatively easily, rather than being created by the precision winding of the internal coils during manufacturing.
However, such encoders normally suffer from a phenomena known as the "Zipper" noise. The NAGRA VI benefits from a complex development in a suppression system used on every level control of the recorder. The end-result is that the potentiometers can be moved instantaneously and no digital zipper effect can be heard.
The potentiometers on the Nagra VI behave in exactly the same manner as the traditional logarithmic potentiometers used in Nagra analogue recorders but with the advantage of the precision offered by digitally controlled encoder devices, and hence an increase the perfection of all recordings.

The left side panel clearly shows not only the analogue and digital audio input connections, but also the external 4 pole XLR DC input socket, allowing the NAGRA VI to be externally powered from an external DC power source such as a car battery. The 5-pin LEMO SMPTE/EBU time code In/Out can also be seen as well as the two HIROSE connectors used for powering external accessories such as radio receivers. These two connectors can supply up to 1 A at 12V.



The right side of the recorder is where the removable compact flash card is located. A LED next to the slot indicates when the card is accessed. The stereo analogue outputs, and the main AES out as well as the second headphone connector can be clearly seen. Additional AES outputs are located on the 15 pin Extension connector. The Start / Stop terminal is a fader start (contact closure) command as found on other NAGRA recorders. Two USB (host / device) connectors are also located on the right side next to the card slot.


Recording medium and format
The NAGRA VI records to al 120GB internal 2.5" hard disk. An extractable compact Flash card is used to record a copy of the audio tracks depending on the users track selections. The NAGRA VI allows approximately 20 minutes of 6 track 48 kHz 24-bit recording per GB of available disk / card space. The compact flash card section is equipped with a "Hot-Swap" possibility meaning that the CF card can be removed and replaced while the NAGRA-VI is powered up, without causing any damage to the card or the recorder. The NAGRA VI records using Broadcast Wave File (BWF) format and is iXML compatible for the metadata making the files compatible with all modern post-production equipment.
Colour display
The NAGRA VI is equipped with a sunlight-readable 3.5" colour TFT display with a resolution of 320 x 200 pixels. This specially designed high luminosity display is used to visually indicate not only the status of the NAGRA VI but also the bargraph modulometers, take number, time code and the current operating modes of the machine. When in the menu mode, the audio levels can be monitored using the LEDs on the front panel.
File back-up
The NAGRA VI is equipped with two USB 2.0 ports. One is designed to connect the NAGRA VI to a computer for file transfer. The second is a "host" connection and although currently unused, it is planned to be used for connection of an external device such as a keyboard.


Time code
The internal time code system and all the internal digital electronics of the NAGRA VI are clocked by a crystal which is a "Stratum III" TCXO which has been artificially aged in an oven to maintain stability. This crystal gives a guaranteed overall stability better than ±4.6ppm over a period of 15 years throughout a temperature range from -20°C to +70°C. The drift due to temperature changes is less than 0.28ppm. This is the most accurate crystal ever used in an NAGRA recorder. The NAGRA VI will handle all the standard SMPTE / EBU frame rates as well as the 23.976fps rate for the HD format. All the frame rates can be pulled "up/down" for the NTSC markets.
Technical Specifications




Recording

Data storage medium

120 GB Internal hard disk

Removable media

Compact Flash type I / II (Hot Swappable)

Disk format

FAT 16 / 32

Recording Method

Linear digital PCM

File type

16 / 24 bit Broadcast Wave File BWF (WAV) with iXML, AES 31 compatible

A/D & D/A conversion

24 Bit Sigma Delta

Tracks

6 individual

Sampling Rate

44.1, 48 kHz, 88.2, 96, 176.4 and 192 kHz (with 0.1% pull up/down)

Recording capacity

20 mins of 6 track 24 bit 48 kHz per GB of disk / memory

Mono / polyphonic

Selectable

Pre-recording buffer

Up to 10 seconds @ 48 kHz 24 bit on 6 tracks.

Display

3.5 inch colour LCD TFT

Level meters

On colour display AND by LED for microphone inputs




Inputs

Digital inputs

2 x XLR AES-3 shared with analogue inputs 5+6

Analogue inputs

4 x symmetrical XLR Microphone (Dynamic, +48V Phantom) / line

Microphone input sensitivity

2.8 and 10 mV/Pa selectable

Limiters

Selectable on microphone inputs, individual or in pairs. Active at -7.6dBFS, max +40dB for -2 dBFS

Line input sensitivity

Adjustable from -6 dBm up to +24 dBm for 0 dBFS recording

THD at 1 kHz

<0.1% Mic, <0.01% line (measured on AES out)

Frequency response

Mic, 10Hz - 48 kHz ± 0.5 dB, Line ±0.2 dB (measured on AES out)

Input noise with condenser mic

0.88 µV (-119 dBm)

Input noise with dynamic mic

4 dB (measured ASA "A" loaded 200Ω

Signal-to-noise ratio

>114 dB

Input level adjustment range

50 dB Mic and from -6 to +24 dB Line

Input filters

LFA (with vortex filtering)

Slate microphone

Electret behind the front panel

Outputs

Analogue line output

2 x XLR 4.4V max (+15 dBm)

Digital output

XLR AES-3 (24 bit or 16 bit dithered)

Headphones

2 x Stereo 6.3mm (¼") Jack 50 Ω

Internal speaker

1W

Other

USB Host

USB 2.0 connector type "A"

USB Device

USB 2.0 connector type "B"

Time code IN/OUT

5 pin LEMO (SMPTE / EBU)

M/S Decoder

Switchable

Word Clock

9-pole "D" type connector

Dither

Menu selectable 24/16bits on Inputs and/or Outputs




General

Dimensions

320 x 74 x 285mm (W x H x D) (Incl. battery box)

Weight

3 kg (6.6 lbs) (without battery box)

Power supply

Lithium-Ion, or external 9 - 16V (XLR 4 pole)

Power Consumption

Approximately 10W

Charge time

6 hours (with supplied Lithium-Ion pack)

Ext. power out

2 Hirose 12V (max 1A)

Relative humidity

From 10% to 99% (non condensing)
For more information, please visit this products
webpage
.